We ship across Canada and the USA
THE ORIGINAL KICKSLED NOW IN NORTH AMERICA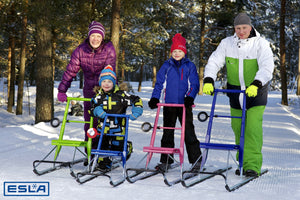 Winter fun for every age from 3 to 93!
Discover the outdoor activity that millions of Scandinavians families love. Enjoy the pleasure of winter with a kicksled.
Great cardio exercise, kicksledding is an alternative to cross-country skiing for those who like a little more stability on snow or ice. It's also the perfect family sport!
The kicksled is used on compacted snow or ice: walking trails, snowshoe or snowmobile trails, country roads, sidewalks, cross-country ski trails (skate skiing), lakes, ice rinks, etc.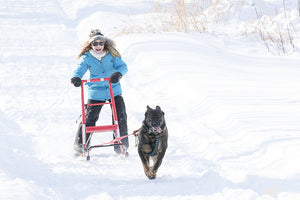 Kicksledding with your dog!
Easy to pull, the kicksled can be your dog's best friend! 
Kicksledding with a dog is a team sport that requires human and animal collaboration in efforts.
No need to have a dog specially trained to practice this activity.
The kicksled can be used with one or two dogs.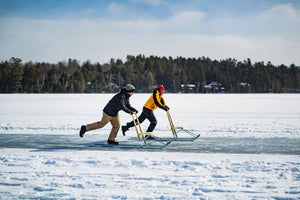 Folds flat for easy storage and transportation. It requires no special maintenance or extra equipment such as bindings or boots.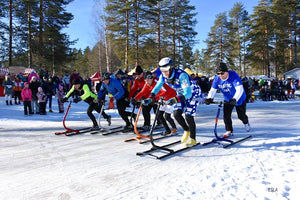 Ecological.
Built tough in Finland!